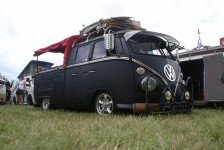 Once again the masses descended on Weston Park in Shropshire for the fantastic Camper Jam VW Festival.  As the name suggests, this one is all about the campervan, from the Split right through to the T5. The camping was completely sold out a couple of weeks before the show – you have to be quick to grab tickets for this show!
We left York at around 7pm and it rained the whole journey down, the rain stopped as we set up camp with the awesome Split66, Matt, Rachel and little Gage.
On waking on the Saturday morning, the sun was bright and it was already warm at 7am, this looked set to be a great day at Weston Park. As we were first up, and having forgotten pans and a kettle, we headed straight down to the showground to get a coffee from the excellent Green Bay, where we always know we can count on a great coffee to start the day!  The showground was looking fantastic as always and it certainly looked set up for a great weekend, the Camper Jam staff all looked happy and excited and ready to give everyone a fun weekend.
The music was fantastic as always, 16 Stone Pig made their annual appearance, having seen them on numerous occasions I went for the Michael Jackson tribute.  Well, I could have easily been fooled into thinking that Jackson had risen from the dead, there was an amazing likeness.  I did later hear that the the tribute guy had actually had surgery to make himself look like MJ – I don't know if it's true but it's very believable.
Sunday was a fun filled day and we attended the Cooking in a Camper, watched some of the dog show, looked around the amazin vehicles in the show and shine and sat in the sun quite a lot!  There was so much going on, mix that with a fantastic array of traders and I don't think it gets much better than Camper Jam for me – it's definitely one of my favourite shows of the show season.
Generally when going to a show I like to get away by about 2 or 3pm, I was so relaxed at Camper Jam that we ended up back at the camp, with the bar-b fired and stayed til around 6pm!
Another great show from the Camper Jam guys – always a favourite show of mine.  They have managed to be big but keep the shilled out and relaxed vibe that we all love.  See you there next year – tickets go on sale 21st October 2014!  Get your tickets from www.camperjam.com/tickets
Don't forget to pop over and like us and say hi over on Facebook and Twitter.