Enthusiast Jo Hamshaw loves to restore VWs. She has four parked outside her house on the southcoast of England all lovingly labored over by her and her partner; A 1957 Splitscreen campervan, 1971 Beetle, 1991 Golf MKIII and a 1998 T4 Transporter.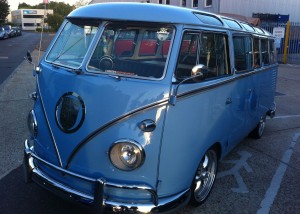 When Jo happened upon the 1957 Splitscreen it had been sitting in a workshop for 17 years, unloved and untouched. And, was in need of a serious overhaul.
In usual VW bus fashion, it had quite a charming past. One of the first generations of Volkswagon campers, the Splitscreen was shipped straight to Britain from Germany into the hands of a refrigeration company. After which it found its way into the hearts of a southcoast beat band called the 'Southbeats', where it spent it's days as a DJ tour bus.
As soon as Jo laid eyes on the rusty old bus she was on a mission, and dedicated most of her spare time converting the camper back to its former glory. Which meant stripping the bus right back, and removing all the parts that weren't in keeping with its original charm.
 "You know how people buy cars and tart them up with performance lights and alloy wheels, they did that in the 60s in a big way. As newer versions of the VW bus became available, they'd fit them up to give them a more modern look."
 It took about a year of weekend tinkering to get the bus back to standard – but it was Jo's attention to detail and patience that paid off.
 "I would trawl the internet all day looking for parts. My other half didn't have the patience. It's great if you love to shop, which I do. I would spend days finding parts from all over the world."
 The buzz blue color was not uncommon for a van of that era, however to find the buzz grey hubcaps which featured on that style of bus took a lot of trawling, it was a rare feature on that style of camper and a lot harder to find.
She tracked down a company located in the US which sold the buzz grey color and had it shipped to England. It helped working for Essex firm VW Heritage spare parts when sourcing rare bits from all over the world.
 Jo's handywork was also applied to the curtains and cushions, which she made out of a blue and white hibiscus fabric she sourced all the way from Hawaii, giving the bus that surf-wagon look it is so well known for. The woodwork and camping interior was made by a chap who specializes in the restoration of vans in British surf haven Devon, called Smith's of Cornwall.
 Any tips for anyone out there wanting to restore a worn out old bus or any timeless piece of machinery?
 "Just get on with it. There are plenty of resources for anyone wanting to get involved in a restoration. Don't let anyone tell you that you can't."
 As time moves on and the old beauties become harder to come by, a new generation of vehicles shift into the classic or vintage car space, re-defining what's considered classic in the eyes of enthusiasts. For example, both the Golf Mk1 and the 90s Golf Mk2 are considered classic cars, and worthwhile investments. And the Mexican VW Beetle, which stopped production in 2003, is deemed a classic car just by definition, even though its only ten years old.
Although, if you're thinking of going down the route of a conversion for investment opportunities, it's worth noting that VW's have a way of getting into the heart's of their owners. And, as Jo discovered after lovingly nurturing her van back to its former self, parting with her big old blue bus would simply be out of the question.
 Megan McAuliffe is a writer, journalist and blogger covering ethical and sustainable issues in lifestyle, community and culture. You can find her on Twitter @Mxxsy