Christian Tracey, Guest Writer
 Christian Tracey, age 19,West Sussex, GSOH, Aircooled Fanatic.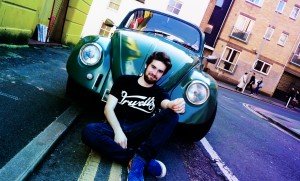 Welcome all, my name is Christian and I am the new kid on the block. Please don't forget to say hello on your way out. I am very thankful for the opportunity to write on behalf of ClassicVolks.com and I take the great pleasure of sharing my story to all of you interested folk. I am writing to you all because I want to share my passion for all things aircooled, reporting on the shows I attend and hopefully inspire a few of you, especially the youngsters to get involved in classic cars after reading my stories.
 My love for VW Beetle's personally has been a recent affair, spawning in April 2013. However, the love of Beetle's has been very strong with my family ever since the late 1970's! Since my family bought their first aircooled VW, as a collective we have owned in excess of 25 Beetle's ranging from US Cabriolets to a custom dragster.
 After a 10 year hiatus, a young 18 year old at the time (me if you didn't deduce) was looking for his first car. I wanted something that was a little bit different, something that perfectly complimented my quirky character and was guaranteed to show up any modern supermini, if it started in the morning of course.
 Anyway, I set my eyes on a bright purple 1972 1600 Bug and instantly fell in love with it, I named it Lola after its L registration and it was completely SLAMMED. My best friend instantly thought it was typical of me to buy something as left-field as a purple classic Beetle, to his quip I laughed and quietly agreed. However, we quickly realised that we bought a deathtrap which needed more welding than most projects. Despite that, I tried my best and progressed a long way into its restoration before selling her on 2 months later over safety fears. Although, it brought back many memories of old for my parents and before long we bought another, and another and so on until in a space of a year there was five on our property (and two in our garden) and finally admitted we didn't partake in just a hobby of restoring Beetle's but owned a full blown restoration empire!
 I am now personally the proud owner of a 1968 US-Spec VW 1500 with a cracking Alpine speaker system and numerous rare additions such as US Spec chrome rear light and rear numberplate light housings which are popular with Baja Bug owners, highly sought after and custom Cream + Red, one year only 'Highback' seats topping off with our mascot, the Tango Man which has been with us in various Beetle's for as long as I can remember! He is named McCartney after the legend Sir Paul McCartney coupled with an apt use of wordplay on the word Beetle.
 Currently, I am documenting my progress of the Fab Five at my own blog, Caught The VW Bug, which produces a not too technical, yet surprisingly humorous insight into Beetle restoration as well as the shows we plan to visit and what the little characters get up to in their spare time!
 My plan for this summer will be certainly a busy and very dirty one. At the time of writing, 3 Beetle's are chomping at the bit to get on the road in the form of a '75 1200, a '77 Last Edition and a rare '67 which I will have the pleasure of transforming these bugs from rustbuckets to show stoppers. On top of that, I will be attending various shows around my neck of the woods and reporting on them both on the blog and with ClassicVolks.com.
 It's all very exciting and I invite you to follow this rollercoaster journey.
See you on the other side fellow Vee-Dubbers!
 Christian Tracey
 You can follow my antics here at Caught The VW Bug:
http://caughtthevwbug.blogspot.co.uk/
 Or view my images over on Pinterest: