The History of the Classic Volkswagen.
By Classic Volks
January 30, 2016
The Beetle started life well before Hitler came to power, when in the 1920's a man named Dr. Ferdinand Porsche dreamed of producing an economical and affordable car. In the early '30s, Porsche opened his own studio in Stuttgart, the center of the German auto industry, with his son Ferry as designer. Two early clients who shared Porsche's vision were Zundapp and NSU - motorcycle builders. You can see the future Beetle in his first car for Zundapp, in shape as well as in the torsion bar suspension and rear-mounted engine.
The first engine, a five-cylinder radial motor, was rejected as being too complicated for mechanics to work on. The one designed for NSU in 1933, the year Hitler became chancellor, was the direct forerunner of the Beetle. It was powered by an air-cooled, four cylinder, horizontally opposed, 1450cc engine, with a 4-speed alloy transaxle to get power to the rear wheels. The body sloped down in the front and back and used the same central tunnel floor pan design and torsion bar suspension that would be used in the Beetle (Type 1). Money problems ended their dreams after only six prototypes were constructed.
It wasn't until 1935 that Porsche found another car nut and sympathetic ear in Hitler and Porsche was contacted to design a lightweight car, air-cooled, with four-wheel independent torsion bar suspension, that got 40 miles on a gallon of gas, sat four, and cruised at 100kph with a one-litre displacement engine. Porsche slowly over the next few years started getting things right - okay, right enough. Crankshafts stopped breaking when they were forged instead of cast, and the torsion bar suspension system got sorted out. It wasn't much of a car; noisy and underpowered with its non-synchro crash-box tranny, wailing cooling fan and inherently clamorous air-cooled 25HP. But, it could cruise all day at 100kph (62mph) in the hot African desert or cold Russian winter without boiling over or needing antifreeze. It was light yet sturdy, easy to drive and work on, handled well, and had great traction with the weight of the engine and transaxle over the rear wheels.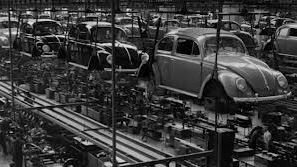 When the Nazis accepted Porsche's design, Mussolini sent 3,000 unemployed construction workers to help build the Kraft durch Freude(Kdf) plant and the 'worker's city'. Workers could buy 5-mark stamps every week to paste in little booklets, and, after about 4 years, when they had paid in 990 marks, they were entitled to a certificate of ownership (though they weren't guaranteed there would be a car attached to the certificate).
It's said that none ever received a car, though after the war they did get some credit for these payments if they bought a new VW. By the end of the war, the Kdf had accumulated a total of $67million from the Kdf-savers, which was seized by Stalin's troops. During the war, workers at the factory built around 55,000 Kublewagens (Bucket cars), the military Jeep-like predecessor a.k.a the Trekker or Safari or 'The Thing', and around 14,000 amphibian Schwimmwagens (also called Schwimmkubels), with a sealed body and a folding propeller (Pictured below-right).
From what we can research, the Schwimmwagen were four wheel drive only on first gear (and reverse gears with some models) and had self-locking differentials on both front and rear axles. When crossing water the propeller could be lowered from the rear deck engine cover and once in place, a simple coupling provided drive straight from an extension of the engine's crankshaft. This meant that screw propulsion was only available going forward - for reversing in the water there was the choice of using the standard paddle equipment or running the land drive in reverse, allowing the wheel-rotation to slowly take the vehicle back. The front wheels doubled up as rudders so that steering was done with the steering wheel both on land and on water.
By the end of 1945, about 6,000 workers at the plant in less than ideal conditions, produced about 1,785 VWs, mostly reconnaissance cars for the British. In 1947 production was just under 9,000 cars, (the first true civilian VWs) as industrial production overall was down throughout Germany. These early Beetles were basically hand-built vehicles, mostly bare steel shells and instruments were basic: speedometer and warning lights for the generator and oil pressure switch, and high beam and semaphores (pivoting arms mounted on the doorjam pillars to indicate left and right turns).
The 6-volt battery was placed under the rear seat, where it remained throughout its production run. The pan at the bottom of the engine lid had a hole for a hand crank (in case you have a dead battery) and the air intake flap on the fan housing was manually operated. Wind-shield wipers stopped where-ever they happened to be when you shut them off and it took 10 turns of the window crank to raise or lower the windows. The front seats were non-adjustable, safety glass was not yet available and the tall and narrow wheels led to some thrilling rides on windy days. Despite all this, production doubled every year for the next three years, reaching nearly 82,000 cars by 1950, with few changes. [reference: John Muir - How to keep your volkswagen alive]
Contact us