info@classicvolks.com
Hiring a VW campervan is quite simply a great way to holiday. No need or worry about how or where to pitch a tent at campsites, and you can easily cover more ground and fully explore an area or country even. There is no such a thing as a cheap camper van. Most seem to hold their value, so it makes sense to rent one if you only need one for a week or so. With very little planning you can be out of the house and travelling, straight from work. The beauty is that you are self-reliant and if you do not like the view - simply move on.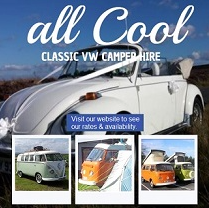 allCool VW Camper hire.
Slow down, you move too fast!If you are looking for a different type of holiday or break that matches your individual style or just need time to relax and experience a slower more chilled lifestyle, then why not hire a classic camper from allCool? Hiring one of our campers gives you the chance to see the country, experience freedom and enjoy a relaxing, fun time for all the family. Are you getting married? Do campers 'float your boat' or that of your partner?
Why not arrive in unique style on your special day? Rose our beautiful 1965 VW split screen Camper Van is the perfect choice if you have a chic, retro style combined with a sense of fun and flair.
If you have a question, want to make a booking, here is what you need to know on doing so.
Office Opening Hours
Monday-Saturday: 9am-7pm. Sunday: CLOSED - You can call on:
07530 111 912
or send a message using the allCool Classic VW Camper Hire website contact page by clicking
this link
.
Comfy Campers...
VW Camper Van Hire from Comfy Campers. Classic VW Campervan hire from the Cheltenham, Gloucestershire to anywhere in the UK. Hire a V W Campervan that is 100 percent original and it will provide you with an unforgettable holiday experience.
Hire a Volkswagen campervan for holidays, music festivals, weddings, proms, parties, special occasions and corporate events. Whatever the occasion we have 4 beautifully restored right hand drive VW campervans for hire throughout the UK. We are members of the Camping and Caravanning Club and offer fully comprehensive insurance, unlimited UK miles and AA breakdown cover. The campervan comes fully equipped with everything you require for a VW campervan holiday.
Find out how to book with Comfy Campers by visiting their webpage here on ClassicVolks.com
Would you like to book with Comfy Campers? Simply use this link to see
Our full booking details webpage
here on ClassicVolks.com Email Comfy Campers via:
info@comfycampers.co.uk
or call them directly on:
01242 681199 | 07793 530812
to check availability and make bookings.
Dorset Dub hire...
Dorset Dubhire specialise in chauffeur driven classic VW wedding hire for your wedding day or civil ceremony. Our beautifully restored wedding buses, Lulu and Lottie are the perfect way to travel and arrive in vintage style and can seat up to 6 people.
Choose from our baby blue over ivory 1960 split screen Lulu and our 1970 lotus white bay window Lottie or hire both together for a real statement. Both vehicles have been lovingly converted and benefit from bespoke interiors to ensure maximum space and comfort. Our wedding transport packages include ribbons, floral garlands and bunting and a complimentary bottle of champagne. Contact us for an obligation free quote or to discuss your requirements.
Find out how to book with Dorset Dubhire by visiting their webpage here on ClassicVolks.com
Would you like to book with Dorset Dubhire? Simply use this link to see
Our full booking details webpage
here on ClassicVolks.com or call them directly on:
01202 848857
to check availability and make bookings.
Dunrunnin CamperVan Hire...
Dunrunnin provides fully refurbished and bespoke Volkswagen campers for holiday hire and wedding transport. We are a small family run business working from home, based in the island town of Enniskillen, which lies on the shores of Lough Erne, County Fermanagh, N.Ireland. Our location is ideally situated for unfettered access to all that the North and South of Ireland has to offer. What sets us apart from most other companies is that we do not charge extra for pillows, sleeping bags, bike rack, taking your dog, additional tent, child cab bunk, outdoor table and chairs. here to go to our website.
You can use this link to visit Dunrunnin Campervan hire website directly and make your booking.
Would you like to book with Dunrunnin Campervan hire? Simply use this link to
visit Dunrunning Campervan hire website
or call them directly on:
+44 7966 798155
to check availability and make bookings.
Go with the Flo.
'Go with the Flo' is all about having a holiday in a totally different, fun and exciting way When you hire Flo, enjoy unlimited miles to explore our beautiful island on the open road.
Everything you need is included in the van, from insurance to maps, roadside breakdown cover and all kitchen utensils and equipment. In fact, you'll need nothing apart from bedding and clothes. Flo is also available for weddings, proms and TV work. Based in Suffolk, Flo is ideal for touring the Norfolk coast and is available for the Latitude Festival.