If you are searching for a hire company in France - let us help you look.
By Classicvolks
February 28, 2016
487 Comments
There are many things you may know France for - snails, the Eiffel Tower and the many other landmarks of Paris, great food and wine, but have you ever really seen this fantastic country? What's to see in France?
From beautiful countryside to stunning beaches there is so much to see an do. What beter way to see it than in a classic VW Campervan? Travel around or find a favourite place - but whatever you decide, in a VW campervan you have the freedom to explore as much of France as you wish.
France has so much to offer and the best way to see it is to travel around - visit some vineyards, try the local foods, Visit the big cities and check out the shopping, head to the beach for a spot of surfing or just relax and enjoy. So while we work on offering you the best camper hire options in France, start planning your journey & contact ClassicVolks if you need more information before you travel.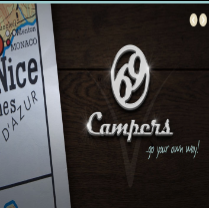 69 Campers VW hire company brings you bespoke 1960's and 70's VW camper vans for touring across the Cote d'Azur. Wonderful hilltop towns of fragrant Provence, chic resorts of St-Tropez, Cannes, Nice and the principality of Monaco offer hidden gems and retreats. Go your own way and explore an area steeped in history and natural beauty.
If you have a question, want to make a booking, here is what you need to know on doing so. Office Opening Hours Monday-Saturday: 9am-7pm. Sunday: CLOSED.
Sunhatfrance Classic VW Camper hire bring you the perfect way to discover Provence and the Cote d'Azur. Located in Cabasse in the South of France we offer 2 newly restored hi-spec bespoke LHD 1970's Campervans. We are only 100kms from Nice Airport and can arrange to collect you, or drive down in the comfort of your own car and we will look after it for you during the hire period. Take a nostalgic tour through the heart of Provence, it's Vineyards, Lavender Fields, Picturesque Villages with their Local Markets, or experience the stunning natural beauty of The Gorges du Verdon where you can camp, picnic, swim in the midst of France's Grand Canyon. Both Cassie and Joe complement perfectly the slower pace of life here in sunny Provence but also aren't out of place cruising through St.Tropez, Nice, Cannes or Aix en Provence all within easy reach. Enquire now to start planning a memorable holiday in one of our eye-catching, Iconic VW's.
We are open 8am-10pm, Everyday Telephone: 0033 483 11 17 75 or email liz@sunhatfrance.com.