There's more to Spain than beaches & tapas! Why not explore it from behind the wheels of a Volkswagen campervan
By ClassicVolks.com
December 30, 2015
Having said that, Spain does have beautiful beaches and all the watersports you could possibly want, but there is more! Hire a Volkswagen campervan in Spain to really discover this beautiful country! Spain has so much to offer both coastal and inland. It's well known that Spain is one of the sunniest countries in the world - not just in Europe! So get in a VW camper and explore this fantastic country - from beaches to mountains & lakes from surfing to walking. And of course there's the Spainish food and Spains relaxed way of life to enjoy too! Browse our Spanish hire companies and book your journey through Spain!
If you're visiting Spain for the first time, be warned: this is a country that fast becomes an addiction. You might intend to come just for a beach holiday, a walking tour or a city break, but before you know it you'll find yourself hooked by something quite different – either way, a Campervan offers a great way to try to see as much as possible in one Spanish adventure.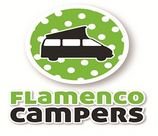 Flamenco Campers VW Camper hire.
Have you ever thought of exploring Andalusia in a campervan? Why not to take a cheap flight to Malaga and travel around Andalusia in an amusing spotted campervan? We hire VW T4 Westfalia California Campervans with an extensive array of standard equipment and many additional extras available as an optional extra.
You only need your backpack and the desire to experience something new, we will add the rest. Flamenco Campers gives you the chance to hire a camper and explore Andalusia. If you want to find out more, visit the Flamenco Campers website for more information.
If you have a question, want to make a booking, or send a message visit their contact page by visiting
Flamenco Campers Website
.