The USA has so much to offer and so much to see and do. What better way to discover the wonders of this great country than with a home away from home - and a very cool one at that. From enormous cities to amazing landscapes, the USA has it all. Jump in and go and explore!
In the USA the roads go on forever, but you don't have to, with your bed in the back and a cooker all built in, you decide how far you want to go each day. If you want to stop for lunch, pull over, jump in the back and cook yourself a gourmet meal or just grab a coffee. Then you can get back on the road and enjoy the sights of America.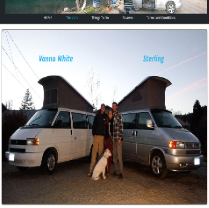 Get out and explore with
VanGo Durango.
- Southwest Colorado's VW Camper Rental. Whether you are wanting to make your camping excursion more convenient or you're itching for the ultimate road trip, VanGo will equip you with everything you need to make great memories that will last a lifetime. Travel with either 'Vanna White' or 'Sterling' (our Camper Vans).
You provide the personalities, we'll provide everything else to help you paint a better vacation.
If you have a question, want to make a booking, send a message using the VanGo Durango website contact page by visiting
VanGo Durango website
. Refer to their terms and conditions for further guidelines. Find them on
Facebook
and
Instagram
. See their
price list here
.